Description
Mini ELM327 Bluetooth With Power Switch chip pic18f25k80
 Note: it  is new elm 327 with chip pic18f25k80 now
 *ELM327 Bluetooth can't support IOS system,such as iphone and ipad. We suggest to use Android 4.0+.
*This ELM327 only supports 12v Cars(including petrol and diesel cars),can't support for 24V or 15V vehicles.
*Please use 16pin OBD II adapter  cars,we dont suggest to use it  on  non-16pin cars,even with a xpin to 16Pin extended cable.
*we never test it for VAZ or for LADA car,it could not be supported,please consider that.
*For app on phone,Bluetooth elm327 can not work on Forscan.We suggest to use Torque .
*Please write down your car model ,the year of production when you contact us.
Features:
*Firmware Version V1.5 (Supports more protocols SAE J1850 than V2.1)
* Chip PIC 18f25k80 
* Support different kinds of devices to use this scan tool: Android system phones, Symbian system phones, Windows XP and WIN7 32bite computers.
*With a switch to turn on/ off these indicator lights.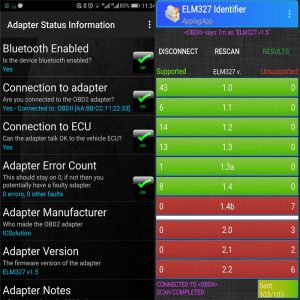 OBD-II Protocols:
1.SAE J1850 PWM(41.6Kbaud)
2.SAE J1850 VPW(10.4Kbaud)
3.ISO9141-2(5 baud init,10.4Kbaud)
4.ISO14230-4 KWP(5 baud init,10.4 Kbaud)
5.ISO14230-4 KWP(fast init,10.4 Kbaud)
6.ISO15765-4 CAN(11bit ID,500 Kbaud)
7.ISO15765-4 CAN(29bit ID,500 Kbaud)
8.ISO15765-4 CAN(11bit ID,250 Kbaud)
9.ISO15765-4 CAN(29bit ID,250 Kbaud)
A.SAE J1939 CAN(29bit ID,250*Kbaud)
B.USER1 CAN(11*bit ID,125*Kbaud)
C.USER2 CAN(11*bit ID,50*kbaud)
*default settings(user adjustable)
 Functions:
     Read diagnostic trouble codes, both generic and manufacturer-specific, and display their meaning (over 3000 generic code definitions in the database).
    Display current sensor data, including:
       1.Engine RPM
       2.Calculated Load Value
       3.Coolant Temperature
       4.Fuel System Status
       5.Vehicle Speed
       6.Short Term Fuel Trim
       7.Long Term Fuel Trim
       8.Intake Manifold Pressure
       9.Timing Advance
      10.Intake Air Temperature
      11.Air Flow Rate
      12.Absolute Throttle Position
      13.Oxygen sensor voltages/associated short term fuel trims
      14.Fuel System status
      15.Fuel Pressure