Description
Launch X431 V 8" Lenovo Tablet PC Original Full System with Bluetooth/Wifi Free Update Online 
 What is x431 V Original ?
 X431 V is a new diagnostic tool release by Launch tech. It composed of an X-431 V pad computer, a protection sleeve, a DBScar diagnostic connector and many OBD1 to OBD2 connector. It communicate with your car by DBSCAR connect with bluetooth, it read car DTC and do diagnose function by the X431 Pro Pad computer, it achieves X431 series full car model and full system diagnose function, it can replace X431 Diagun III or X431 IV.Meanwhile, taking advantage of mobile internet, it integrates more application and service, such as creating maintenance data base and case library, providing instant maintenance information, establishing public and private maintenance social circle etc. As a result, it builds a broad vehicle diagnostic community, which helps you to share vehicle maintenance knowledge online, exchange vehicle maintenance experience online and provide vehicle maintenance related service support online. This will be another revolution raised by Launch in the vehicle diagnosis industry.
  x431 V Original Language: 
English, German, Italian, Japanese, Russian, French, Portuguese, Spanish, Traditional Chinese…
 x431 V Original Bluetooth Distance: 10M (Without Obstacle)
 Function:
 1.Full Diagnose Function:
X431 V can diagnose the electronic control system of prevailing vehicle models covering Asian, European, American and China. Full range car models and full car system diagnose make it a professional automotive diagnostic tool.
Diagnosis functions include: Read DTCs, Clear DTCs, Read datastream, Special functions etc;
2. Connecting by Bluetooth
X431 V communication via bluetooth, very easy to use.  X431 V Pad computer specially designed for Android platform with clear and user-friendly interface. X431 V Pad computer equipped with an exclusive X-431 V protection sleeve to prevent it from being damaged;
3. Browser:
Built-in Wi-Fi module makes surfing on the internet freely;
4.Settings:
To configure your personalized X-431 V through it;
5. Search:
Enables you to locate your target quickly and conveniently;
6. Email:
Allows you to send and receive email. External POP3 or IMAP email account for some common Web email service provider can be added;
7.File Manager:
You can manage the files or downloaded files stored in SD card efficiently;
8. Other Additional Functions:
Alarm, calendar and calculator etc.
9. Applications:
Other android based applications can be customized to install or uninstall.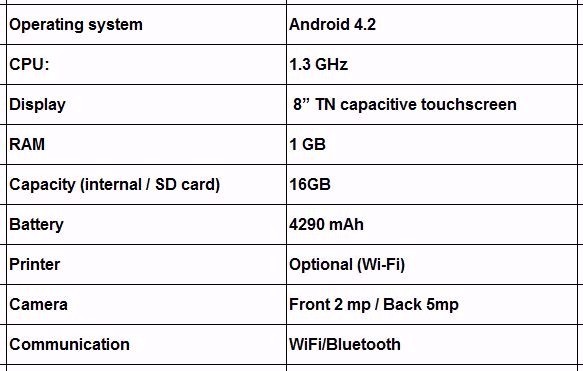 Package list:
 X-431 V pad computer
Password envelope
X-431 v protection sleeve
DBScar diagnostic connector
OBD II extension cable
Cigarette lighter cable
Power adaptor
USB data cable
Non-16pin connector
2 pcs Golo